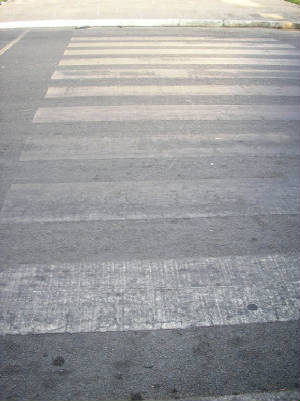 This is a crosswalk! As far as I can tell, it's as big a waste of paint as they are in France, Tajikistan, or Latvia. But it's for a different reason here - traffic seems to take care of pedestrians. Children are often playing on the sidewalks and tourists (yeah, including me) just wander into the streets sometime. Traffic flows around them. And traffic is generally in the 30 mph range anyway.
I won't comment on every street photo. To me, this walk is as interesting as a visit to a museum. How do people live? How are buildings designed? What does architecture say about the development of the city? How do traffic, buildings, people and business interact? In the end, this interaction is distinct for every city and every country. Phnom Penh is not Riga is not Houston is not Tokyo is not Paris (hi, Melanie!) because of this unique interplay. So I walk down these streets and at nearly every turn I find myself thinking, "How interesting!"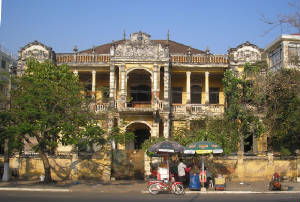 Occasionally, you find these decaying French colonial buildings. They were beautiful in their prime, but they stick out because architecturally, they scream, "We don't belong here!"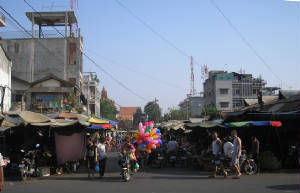 The market - parts of it are fairly open, along streets with traffic. It's pretty easy to navigate. But then there are other places where you feel like you're diving into a cave. Shoppers turn sideways to get past each other. Too-tall Westerners have to duck their heads under the canvas roof. You don't get lost - just go straight in any direction until you see daylight. But the feeling of being in a maze is still there. Markets like this are everywhere in the world - the best ones I've seen are in Istanbul and Cairo and Dushanbe.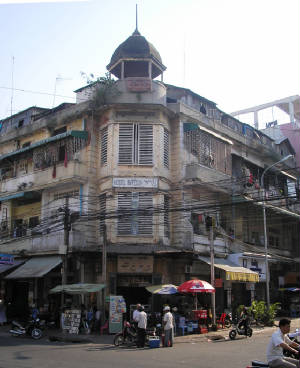 Many of the larger (three or four-story buildings) have big open-air ground floors that are used for shops or restaurants.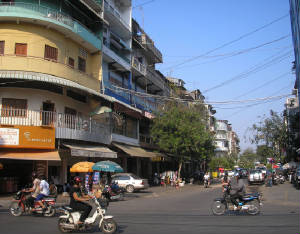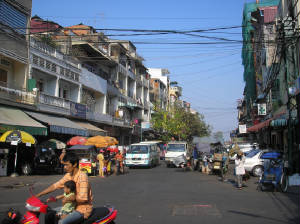 Priceless...Dad and daughter zooming through the streets of Phnom Penh on a scooter.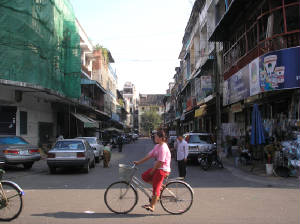 I love all the bicycles, but I suspect there are more scooters, at least in the tourist zone.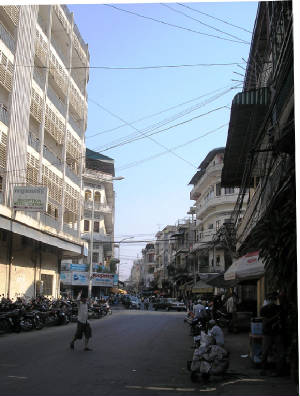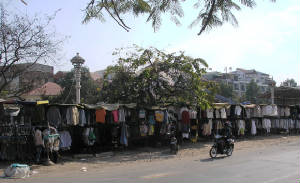 This is the outer edge of the Central Market...pretty much the local version of Macy's. A nice cotton men's shirt is 8 to 10 dollars, max. I'm sure you can get them cheaper, but I haven't tried.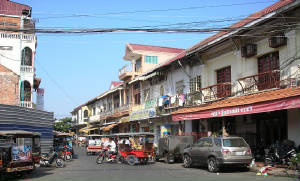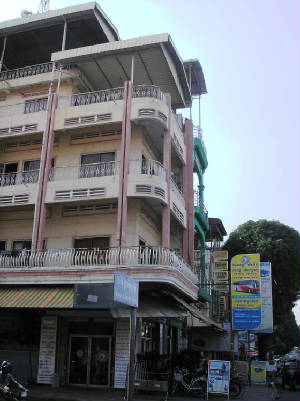 Couldn't you just plop this building down in the French Quarter of New Orleans?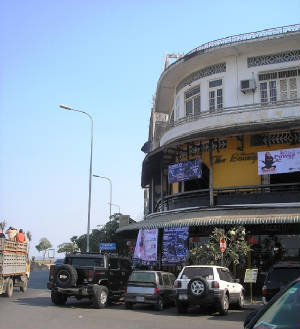 Another sign that Westerners are nigh - big modern vehicles like SUV's.